5-6 Weeks
Mayfair puppies have been on sheepskin, newspaper, hardwood floors, tile, carpet, cushions, concrete, gravel, grass, and dirt.
The puppies take a a ride in the car every few days. One lucky puppy gets to go along on each errand, which familiarizes them with all kinds of people: people with hats, beards, moustaches, and eyeglasses.
Mayfair puppies are doggie-door trained often by 6 1/2 weeks!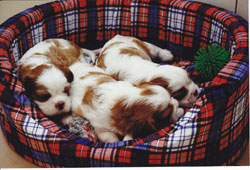 Five Weeks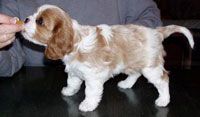 Six Weeks
10-12 Weeks
Mayfair puppies go home with their new parents at 12 weeks. They are provided a folder of puppy shot records, instructions for future vetrinary visits, grooming tips, and puppy pictures for your personal Puppy Book. They are registered Cavalier King Charles Spaniel Club (ckcsc.org) , USA and American Kennel Club.